About The Lodge & Grasmere
About The Lodge
Heidi's Grasmere Lodge was originally built in the 1850's as one of Grasmere's original tea rooms; in fact, a coffee house and reading room.  At that time, the Manchester Corporation were building a water supply from Thirlmere to Manchester and the brick-built pipe (almost 10 ft high and still in use) was hidden below the fell to the east of Grasmere Vale.  Walk any of the Ghylls and you will see viaducts that hide the Victorian pipeline.
The original owner of Heidi's Grasmere Lodge had the idea to coax the Manchester Corporation workmen away from the Red Lion public house next door, who in those days made and sold its own wicked brew.  Following this, the building was changed to a hotel still without the sins of drink and was known for many years as The Temperance House.
About Grasmere
Grasmere is a small traditional Lakeland village situated in idyllic surroundings of fells, lakes and tarns and when you visit you will quickly understand why it is one of the most popular tourist destinations in the whole of England's Lake District and Cumbria. Here, together with easy access to a range of wonderful walking, cycling, hiking and climbing opportunities are the graves of William Wordsworth and his family in the churchyard of ancient St. Oswald's. They feature amongst the most visited shrines in Europe. Close to the Lodge is the lake where the poet often sat at it's edge and describing it as the "loveliest spot than man has found".
Summer months has Grasmere staging the annual Rush Bearing Ceremony and the widely acclaimed Grasmere Sports featuring traditional Cumberland & Westmorland Wrestling, fell racing, hound trailing and much more whilst the nearby village of Rydal's Sheepdog Trials & Hound Show is yet another fascinating Lake District and Cumbria event providing entertainment for all ages.
Rydal is the home of Rydal Mount, which, as Wordsworth's residence for the last 30 years of his life, attracts thousands of visitors each year. Comprising of a small hamlet, church and a beautiful mile long lake, and sitting between its larger neighbours of Ambleside and Grasmere.
Grasmere is cradled in a vale in the heart of the Lake District and is crowned with magnificent fells and mountains all around. Most of the buildings date from the 19th or early 20th Century, though the farms are much older. The church dates from the 13th Century.
William and his sister Dorothy moved into Dove Cottage in 1799 and they stayed here until 1808 as the cottage had become inadequate. They moved to Allan Bank, a large house that William had condemned as an eyesore when it was being built! They lived here for two years, with poet and friend Coleridge.
Wordsworth died in 1850 and has a simple tombstone in the churchyard which stands on the banks of the River Rothay, along whose banks pleasant walks can be made.
At one of the entrances to the churchyard is a small building which was the village school for over 220 years and is now home to the famous Sarah Nelson's Gingerbread Shop.
Come and see for yourself – you won't be disappointed!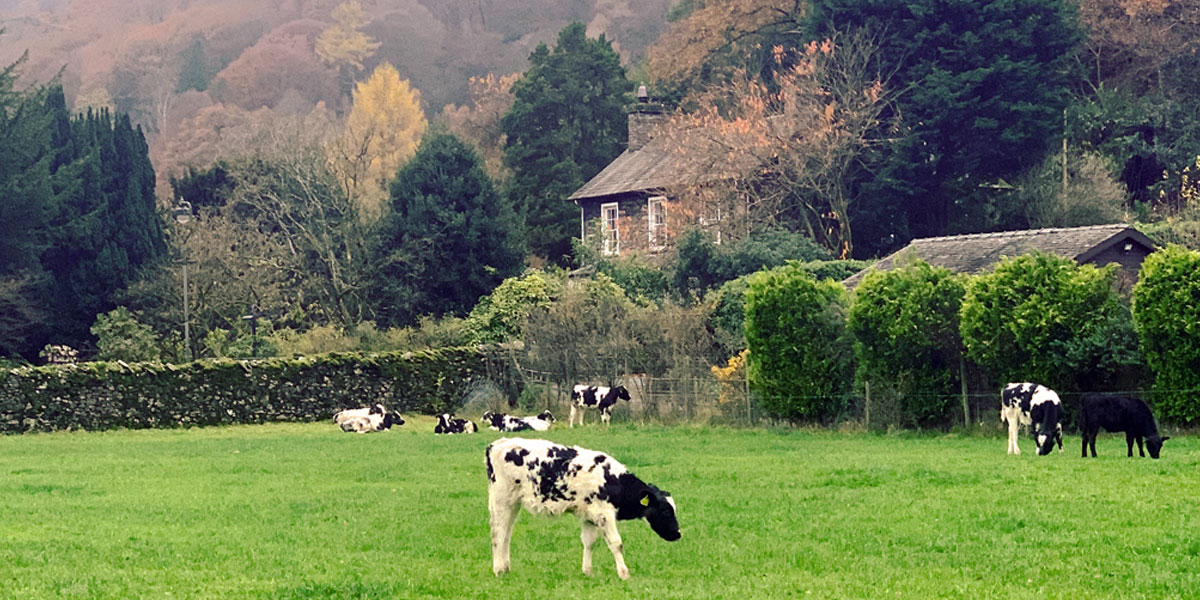 Nearby Things to See and Do
St Oswalds Church – the 1st church in Grasmere built in 642 AD and it is also where you will find William Wordsworth buried.
Dove Cottage and the Wordsworth Museum – Dove Cottage is best known as the home of the poet William Wordsworth and his sister Dorothy Wordsworth from December 1799 to May 1808
Wordsworth Daffodil Garden, a local community project in honour of the poet.  This garden can be found by the church and next to the Sarah Nelson Gingerbread Shop.
Sarah Nelson's Gingerbread Shop – Victorian cook Sarah Nelson invented Grasmere Gingerbread in 1854 in Grasmere from where it gets its name. A unique, spicy-sweet cross between a biscuit and cake, its reputation quickly spread, and it is now enjoyed by food lovers all over the world.
National Trust Allan Bank – This is where Grasmere's valley unfolds from the picture windows and woodland grounds.  Once home to National Trust co-founder Canon Rawnsley and only partially decorated, this isn't a typical National Trust experience.
Grasmere Lake is 1 mile long, half a mile wide and 22 metres deep.  The lake would be an attractive and popular tourist area even without its Wordsworth connections. 'The most loveliest spot than man hath found' was Wordsworth's famous quote describing the area of Lakeland that he most loved.  The small island in the middle of Grasmere Lake was Wordsworth's favourite destination while he was staying at nearby Dove Cottage.
Climb Helm Crag (known as The Lion and Lamb) which overlooks Heidi's Grasmere Lodge. The private balcony of Room 6 has an amazing view of Helm Crag.
Rydal Caves can be found on the north side of Loughrigg Fell above Rydal Water.  One of the ways you can access the caves is via White Moss, on the A591 between Grasmere and Ambleside.
Other areas – There is plenty of shopping, lakes and refreshments to be found in nearby Ambleside, Bowness on Windermere, Windermere and Keswick.  Grasmere has a good bus network that takes you to all of these Lake District destinations.  The bus stop is a 2 minute walk from the Lodge.
Book Your Room Online
You can book a room at Heidi's Grasmere Lodge online by clicking the button below.